Due to inclement weather and negative wind chills, Am-Po Schools will have a remote learning day on Tuesday, February 16th. Please stay safe and warm.

Good afternoon, due to current weather conditions, Am-Po schools will be meeting virtually tomorrow, Monday, Feb. 15th.

Demo has begun and work on Phase II is underway.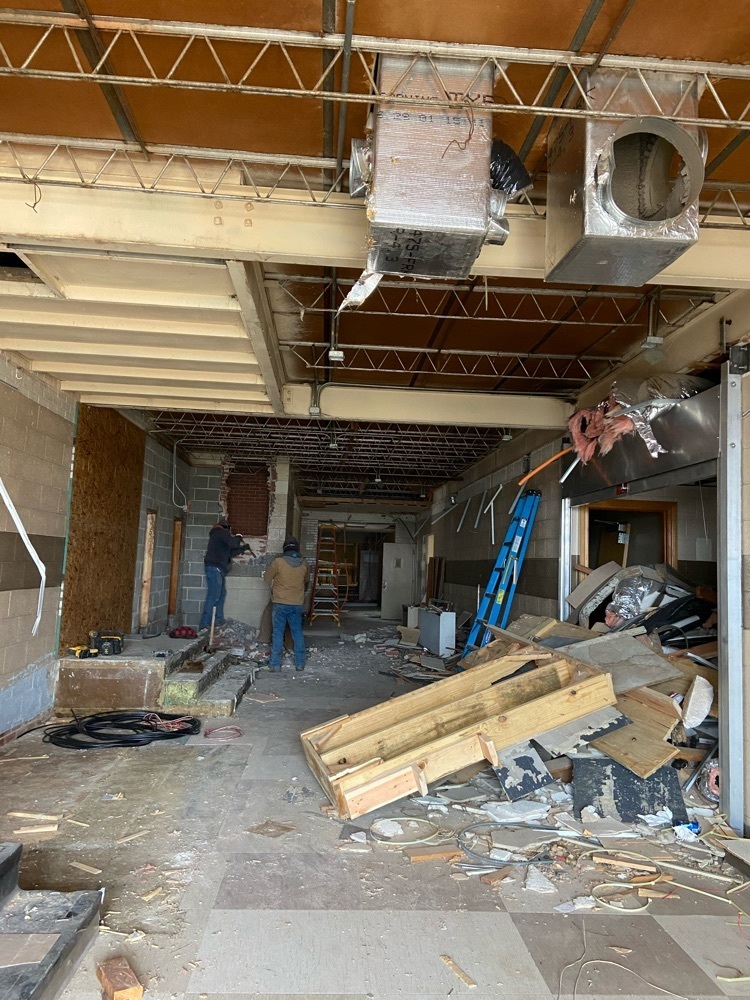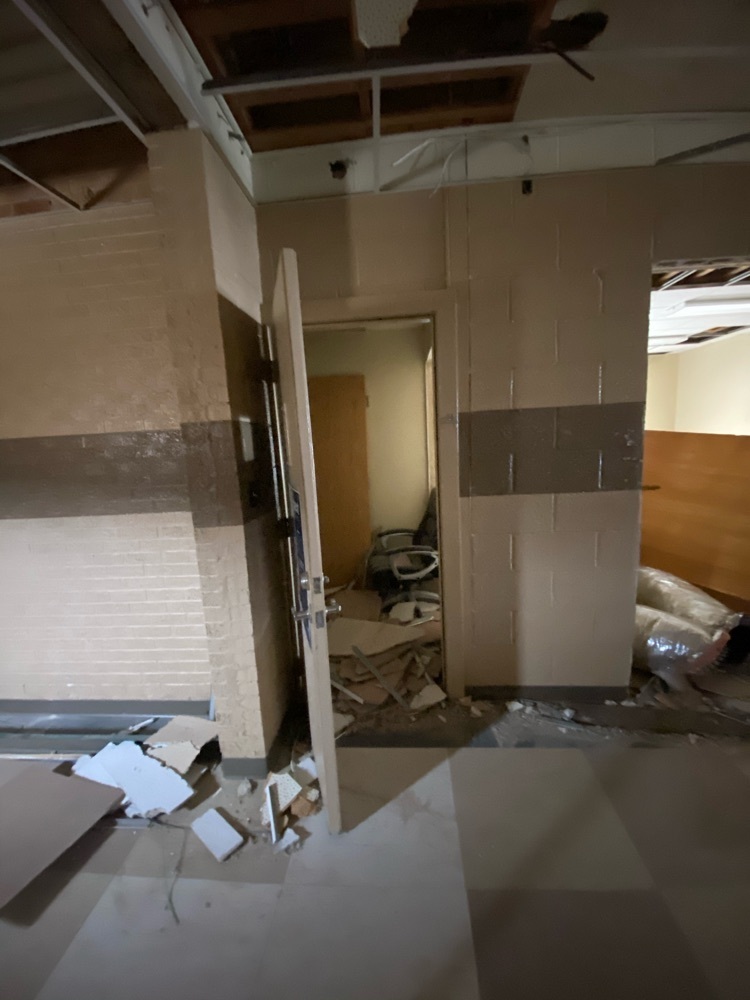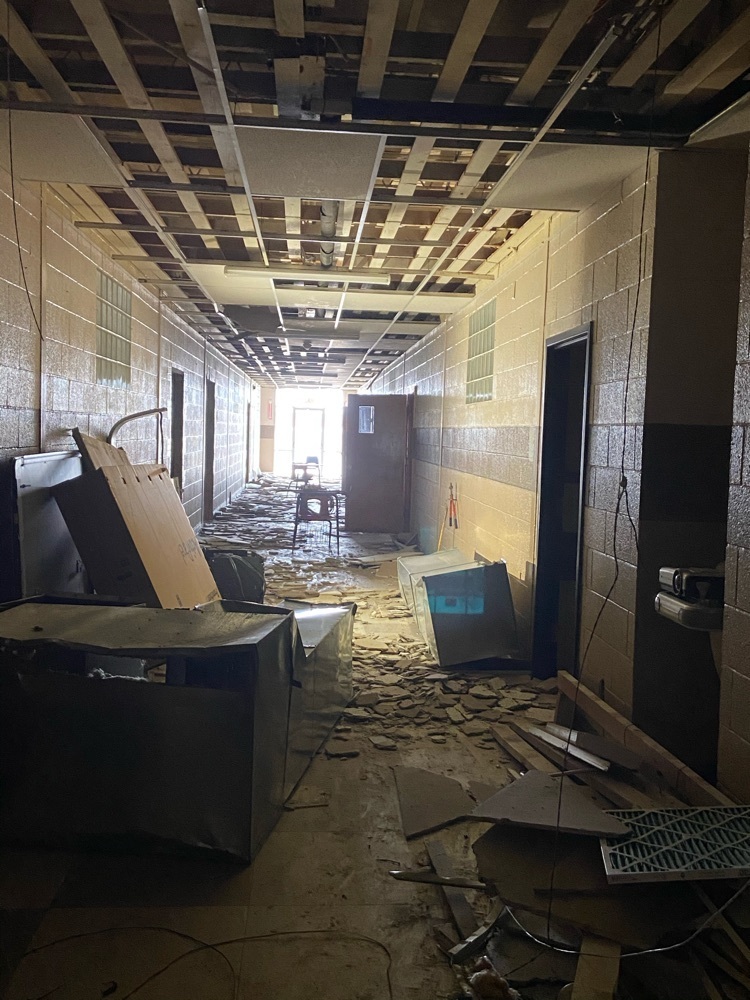 Good evening from the North Pole, or so it seems. We have been watching weather reports and checking roads all day long and have decided that we will be in school tomorrow, Thursday, Feb. 11th. We will check roads again in the morning in case something changes overnight. If your child rides a bus please do not have them wait outside, if necessary we will wait for them a little longer than normal. This may cause some of our routes to take a little longer so please be patient if they are running late. If your child normally drives to school and you would prefer for them to leave a little later please do so. We will be flexible and allow additional time for safe travel. For the most part, roads in the district are in good shape and dry but we encourage everyone to take your time and be aware of the conditions in the morning. If we receive the amount of snow they are predicting over the weekend, several days next week may be impacted. Students and staff will need to prepare for the possibility of distance learning in the event school has to be closed. We will be out of school on Friday, Feb. 12th as previously scheduled and we will reschedule our Parent-Teacher conference night soon. Stay safe and warm!

Good evening, due to the threat of slick roads in the morning, Amber-Pocasset schools will not meet in person tomorrow, Wednesday, February 10th. Students should log in to complete assignments virtually or complete any work that was sent home today. Please stay safe and warm.

Good afternoon, with the deteriorating road conditions we will be shutting down Parent/Teacher conferences early this evening. Once the current ongoing conferences end we will close the buildings. Sorry for any inconvenience this may cause. We still plan to have our second night of conferences on Thursday, Feb. 11th from 3:30-6:30 p.m. If you need to have a conference and are unable to make it Thursday night please contact your teacher or principal and we will make arrangements. Have a good evening and stay safe.

Tonight's JH Basketball games at Fort Cobb have been cancelled due to unsafe travel conditions. (February 8, 2021)

Monday's BB games at Fort Cobb are JH games only; 7/8 grade games have been canceled. JH girls start @6pm, JH boys @7pm.

Best of luck to our HS Academic Team, competing in the State Tournament on Saturday! TAKE STATE!!!!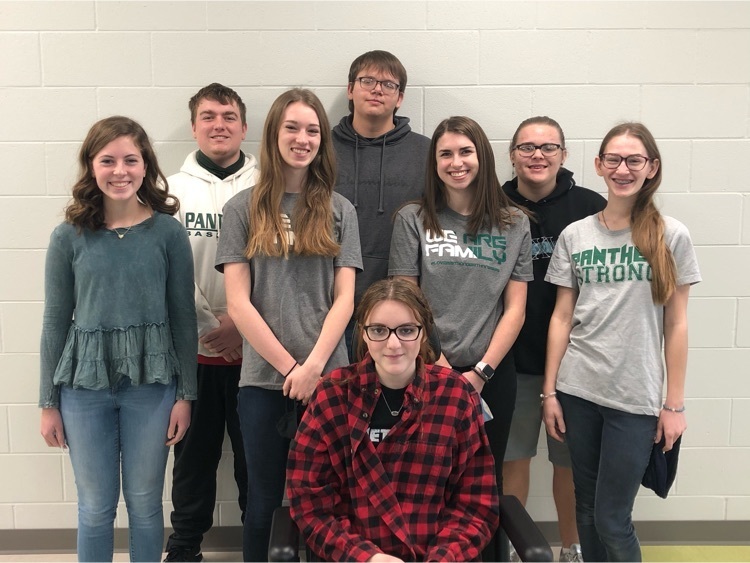 A HS BB game has been added this Friday, February 5, @ Carnegie. Girls begin at 6:30pm, Boys at 8:00pm. This game replaces the previously scheduled game vs. Okarche on the same date.

For HS Basketball@Binger on Tuesday, February 2, gates will open at 6pm. In order to purchase a ticket, you must have a voucher.

All games at Dibble scheduled for Saturday, January 30, have been cancelled.

BB games on Saturday, January 30 at Dibble will be HS only; there will be no JH games. HS girls begin @4pm, HS boys follow @5:30pm.

For those traveling to Thursday's games at Ninnekah, please be advised that due to bridge construction, Ninnekah is inaccessible via Dell Street on the West. For alternate route information, please see the attachment.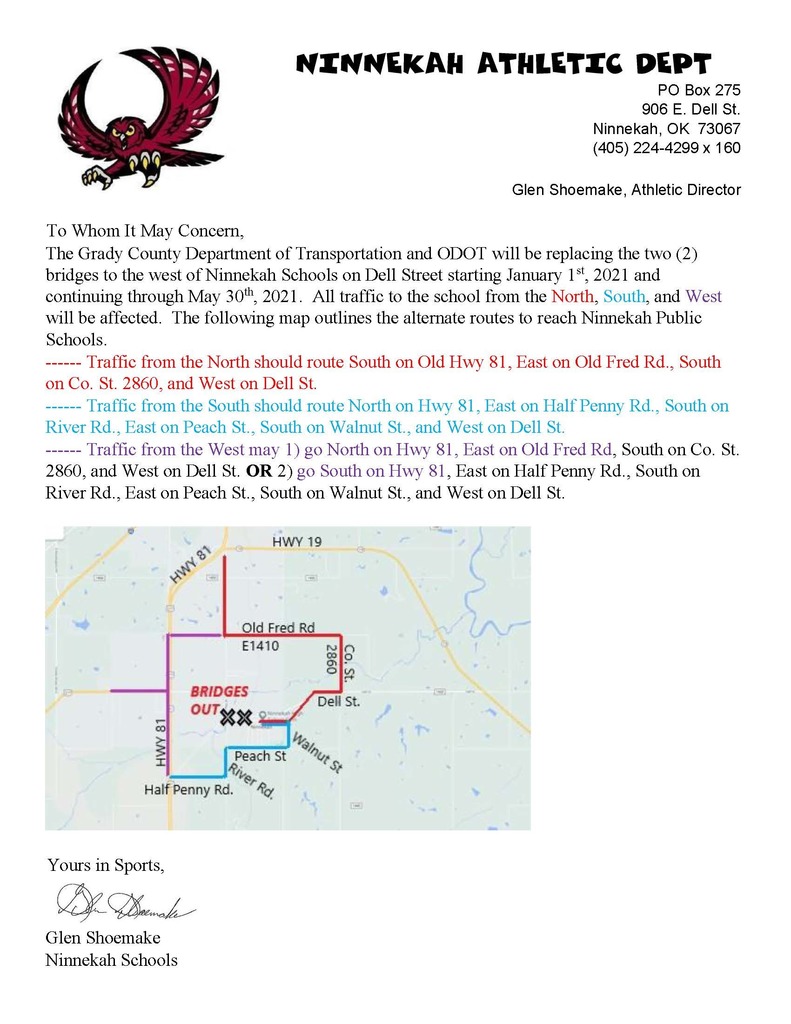 Beginning January 25, entrance into the gym for basketball games will be made through the West and East entrances to the new student commons area, located on the North side of the cafeteria. For visual direction, please see the attached image.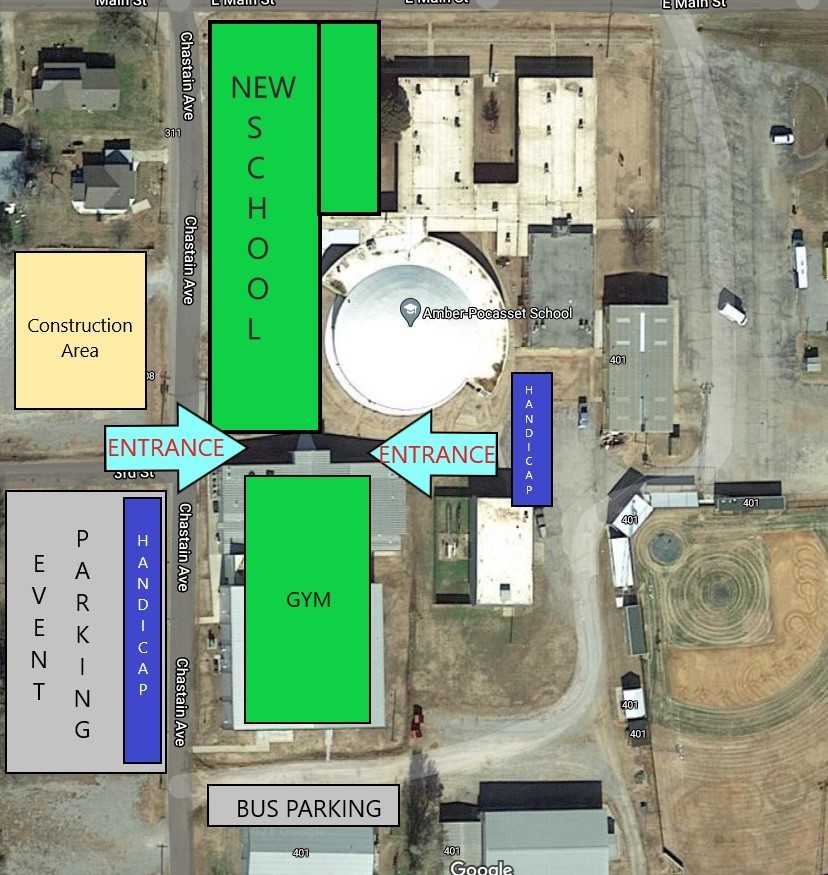 The HS BB games scheduled for Tuesday, January 26 vs. Verden have been cancelled.

Congratulations AmPo Panthers 2021 Grady County Tournament Champions!!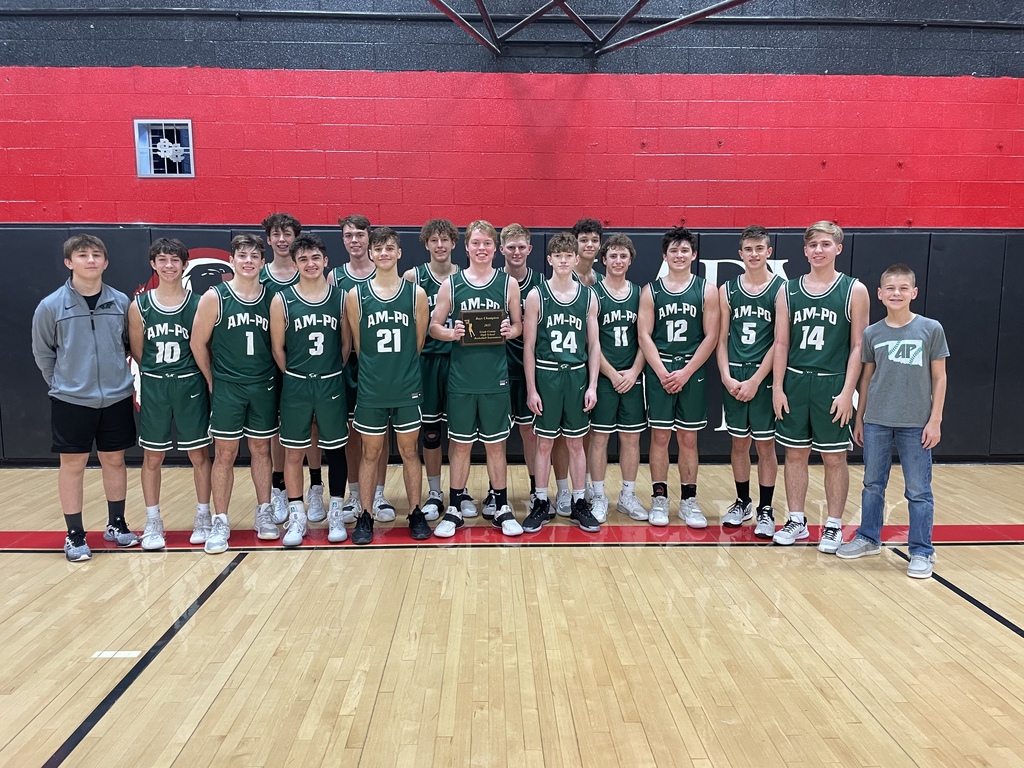 AmPo Lady Panthers are the 2021 Grady County Tournament Champions!! Congratulations!!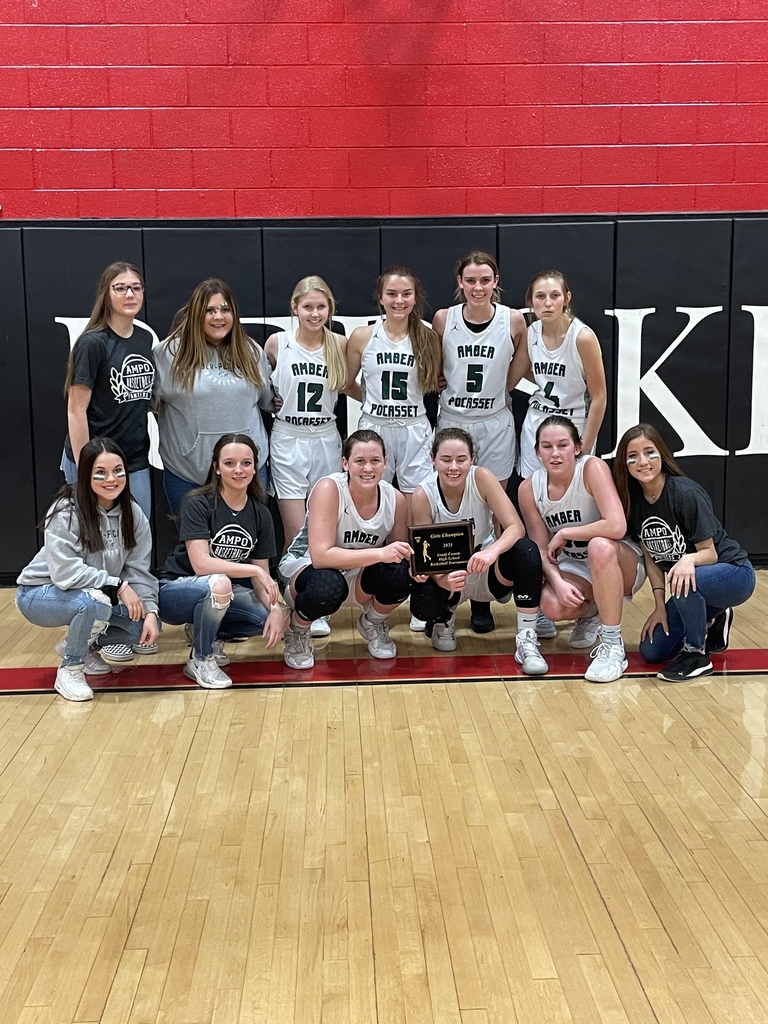 Lady Panthers and Panthers will both be playing in the Grady County Finals tonight. Girls take on Ninnekah @5pm; the Boys play Dibble @7:30pm. There are a very limited number of vouchers and you must have a voucher for admittance. Games will be live-streamed on the Rush Springs Schools Facebook page.

The Lady Panthers take on Lexington in the second round of the Grady County Tourney. Please note that the game will be played on Thursday, 6pm @ Alex. THIS IS A CHANGE FROM THE TIME PRINTED ON THE SCHEDULE.